September 16, 2011 in Blog, News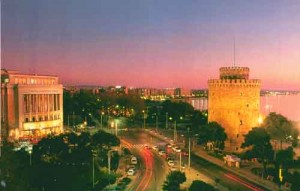 The 2nd BlogForever Consortium Meeting took place during 8-9 September in Thessaloniki, Greece. Nineteen participants from twelve institutions came to Thessaloniki to discuss about BlogForever. Current progress was evaluated and the project roadmap was laid down.
The meeting was organized in sessions covering all aspects of the project:
Weblog Structure and Semantics (WP2) was one of the main sessions of the meeting, covering recently submitted BlogForever Survey and the pending Blog Data Model.
The BlogForever Policies (WP3) section of the meeting covered work on Risk management as well as the Preservation Policy.
In the BlogForever software platform (WP4) session, work on User Requirements & Platform Specifications was evaluated. Additionally, a special technical session explored possible ways of designing & developing the BlogForever Platform.
Last but not least, the dissemination plan & associated activites were presented in the Dissemination & Exploitation (WP6) session.
Besides BlogForever partners, Carolyn Hank was also invited to present her work on Blog Preservation and contribute to expanding the spectrum of the project.