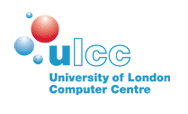 ULCC's Digital Archives Department has worked extensively on local, national and international digital preservation projects for more than 12 years. Partners and clients have included the National Archives, the British Library, the European Library/Europeana, the Joint Information Systems Committee (JISC), the Digital Curation Centre (DCC); academic institutions including King's College London, University College London, Cornell University. ULCC is a full member of the Digital Preservation Coalition, and has participated in the activities of ERPANET and DLM-Forum. Staff participate extensively and pro-actively in national and international forums on digital archives, preservation and repositories.Web preservation is a strong theme in the work of ULCC"s Digital Archives Department. Initiatives with which ULCC been involved recently include: the 2008 JISC Preservation of Web Resources Project (JISC-PoWR); archiving websites on behalf of the JISC, as a partner member of the UK Web Archiving Consortium; and the ongoing JISC ArchivePress Project for blog archiving. It is worth noting that the ArchivePress project in particular has made a strong case for the value of preserving blogs used in academic contexts, particularly as adjuncts to research projects. The JISC-PoWR project also identified the importance of student blogs, and issues around their sustainability. Finally, the web-archiving service has been engaged with remote harvesting and rendering of blog content for several years, reflecting the fact that many JISC project websites produce their output as blogs.
People
Richard Davis has a experience as a developer, data and systems analyst and project manager mainly in digital preservation. Projects include developing XML-based metadata management systems for the UK National Digital Archive of Datasets (NDAD), "Social Networking Extensions for EPrints" (SNEEP), JISC Preservation of Web Resources (JISC-PoWR), "Copyright Licensing Applications with SWORD for Moodle" (CLASM), and the blog archiving project, ArchivePress. He has worked with a range of standards for metadata management in preservation contexts, such as EAD, PREMIS, METS and ISAD(G). Richard's interests also include educational uses of social networking, and integration of digital librares and archives with e-learning systems. Richard is a Certified Member of the Association for Learning Technology, and has a good working knowledge of French and Italian. Richard will coordinate all ULCC personnel and will act as ULCC PM and contribute his experience of blog archiving wherever appropriate.
Patricia Sleeman is a qualified archivist, with many years' experience in digital preservation, particularly government datasets, on the NDAD system. She has previously worked for the National Archives of Ireland. At ULCC she has conducted several research projects, including the recent JISC Digitisation Preservation Survey. She is also course manager for the Digital Preservation Training Programme (DPTP), and has organised many training courses and dissemination events. She is familiar with many metadata and archive management standards FP7-ICT-2009-6 BLOGFOREVER Collaborative Project including ISAD(G) and OAIS. Patricia participates in many international fora, acts on committees for the Society of Archivists and the International Council on Archives, and is a fluent Spanish speaker. Patricia will contribute her expertise in digital preservation surveys to WP5.
Ed Pinsent is a qualified archivist and records manager with many years' experience in digital and web preservation. He has previously worked for the National Archives and the Church of England. At ULCC Ed has worked on NDAD, and the UK Web Archive Consortium, where he has dealt with issues of rights clearance and crawler management. Ed also contributed substantially to the JISC Preservation of Web Resources (JISC-PoWR) Handbook, and managed the AIDA (Assessing Institutional Digital Assets) project. He is familiar with metadata and archive management standards including ISAD(G) and OAIS. Ed also manages several modules for the Digital Preservation Program and has organised dissemination events. Ed will contribute his expertise in web preservation and policy to WP3 in particular.
Rory McNicholl is a highly experienced web developer specialising in digital archive and repository systems. He has worked with managing a wide range of web objects, and is experienced with issues AJAX, Web 2.0 and the Semantic Web. Projects include "Social Networking Extensions for EPrints", and the "Platform Independent Community Toolbox" (PICT) which makes extensive use of Open Authentication protocols. Rory has strong skills in developing applications, manipulating XML and SQL using Perl, PHP and JavaScript, and rapid prototyping of web apps using ready-made libraries and frameworks such as LibXML and JQuery. Rory will assist the development due to his repository development experience.
Silvia Arango-Docio worked as a Data Analyst and Researcher on the National Digital Archive of Datasets since 2001, and has a Master's degree in Applied Statistics and Operational Research. She was also a researcher for the JISC-funded Digitisation Preservation Survey and the Assessing Institutional Digital Assets (AIDA) project in 2008-2009 and the EVAMP Survey project in 2003. She also speaks proficient Spanish and is interested in making future BlogForever dissemination in this language. Silvia will be the main project officer on the project on behalf of ULCC, representing 0.6FTE over the project's duration.