June 20, 2011 in Blog
The BlogForever Invenio workshop took place last week at CERN. Nine participants from seven different institutions and five countries came to Geneva, Switzerland to get better acquainted with the Invenio software suite and discuss BlogForever's platform features. Interesting presentations and discussions ensued during the workshop giving the project participants a vivid picture of how Invenio will be used and extended to fit BlogForever's software platform needs.
Invenio's lead development team members gave various thorough presentations on the platform by first introducing its roots, history and present status to the participants and then highlighing and explaining key features such as searching and indexing, ranking and sorting, metadata editing, formatting  and harvesting, task scheduling, authentication and authorization, file management and community features. Several short demonstrations illustrated the above as well as how to experimentally add blog posts as records to an Invenio instance and basics such as an installation from scratch and how to set up simple maintenance tasks.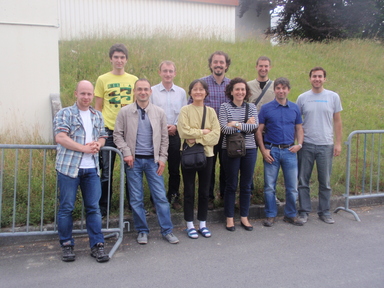 The participants had some very intriguing discussions after the presentations and demonstrations and the Invenio developers answered the questions that were generated and commented on some of BlogForever's platform specifications. The round table discussion on the last day gave the participants a chance to express their views and remarks on various aspects of the project focusing on the implementation of the software infrastructure.
On the lighter side of the workshop, visits to the CERN Computer Center, the Microcosm exhibition and the Globe exhibition were organized while the participants loosened up and enjoyed some Mexican specialties at the workshop's social dinner.